For most players, taking part in a high-stakes poker game is just a dream. To sit at the same table as Negreanu, Ivey and the like takes a bankroll worth millions, as well as a huge amount of work making it to their level.
For some though, high-stakes poker becomes a reality, usually after years grinding away at lower stakes, building up their bankroll one step at a time. On this page, we're going to introduce you to the world of high stakes poker, as well as give you a little guidance on how to make it to the upper echelons of the game.
What is a High Stakes Poker Game?

If you've ever watched a show like High Stakes Poker on cable television network GSN (Game Show Network), you'll be aware that a high stakes game involves a lot of money – far more than you'd typically see placed on the table. You'll also have been treated to commentary from Gabe Kaplan, which got many people into poker in the first place. When it comes to money, it's not uncommon for high stakes poker players to buy into for a game for in excess of $1 million, and even rebuy after that.
Perhaps the most famous high stakes poker game is the Big Game, a cash game regularly played in Bobby's Room at the famous Bellagio in Las Vegas. Generally, the blinds at this game are around $800/$1,600, however they have been reported to have been as high as $4,000/$8,000 . The minimum buy-in is $20,000, however most usually buy in for around $200,000 - $300,000. The poker variant played changes every few hands, and games include no limit Texas hold'em, Razz and Omaha.
What is Needed to Become a High Stakes Player?
If you want to become a high stakes poker player, there are a few important things you're going to need. Take a look below to see five things that all successful high stakes players have in common…
A Large Bankroll
Firstly, you're going to need a huge bankroll. The average high stakes poker player is going to have a bankroll of at least $500,000, with the best having bankrolls worth millions. This huge bankroll is needed as there are going to be swings in fortune, and high stakes players need to be able to withstand losing tens of thousands in a single playing session.
It won't be possible to build up a bankroll like this in a short period, unless you're lucky enough to already be rich enough have the money needed. So, you'll need to grind at low stakes and mid stakes tables for a long time before you're at a stage where you're able to play for high stakes. This isn't a bad thing, as spending that time at the lower stakes will allow you to develop your game and think on the same level as the best high stakes players out there.
Next Level Thinking
Anyone looking to play at the highest levels has to exhibit high level thinking – thinking that less experienced and skilled players wouldn't even understand. If you want to succeed, you'll need to know what you're thinking, why you're thinking it, and how exactly other players are going to react to your every action.
You'll also need the ability to switch things up and occasionally break the norms, as well as an amazing memory to recall tells and other important facts that might have happened months, or even years ago. Remember that others are going to be constantly analyzing you too, so you have to keep this in mind when you play as well.
If you're going to develop these skills, you might need some extra help, which is where the various poker schools found online could be of assistance. By working with someone who has already mastered high stakes games, you can learn to think as they do, and analyze the game with an expert eye.
High Confidence
If you want to make it at the very top of poker, you need to have an unshakeable confidence in your ability. There are going to be days when you lose a small fortune, and normal players would immediately start questioning their choices. You, however, need to know that you've got the skill to turn things around tomorrow, by winning back everything you've lost, plus more.
You're also going to find yourself coming up against other players who have mastered the ability to snatch your confidence away from you, players like Tony G, the outspoken high-stakes player from Lithuania. They will pounce on any mistake you make, using it to push your self-belief down as far as it'll go. You need to be able to ignore them and recognize your own skills. If you don't believe you should be at the table, you really shouldn't be at the table.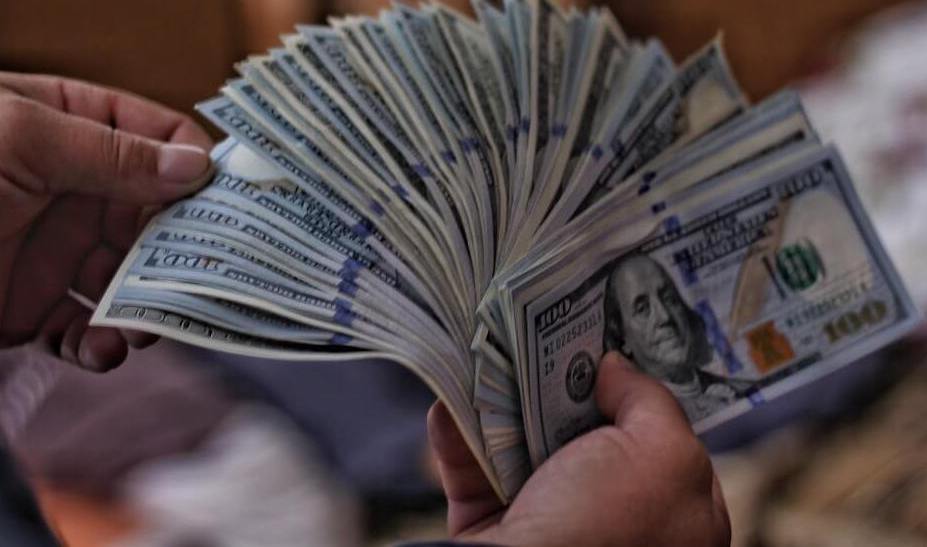 Lots of Discipline
Next up, you really need to have discipline when you play. At lower stakes, a poor call or an excessive bet might only cost you a few dollars, but losing your patience and doing something stupid at a high stakes game could see you losing thousands. You need to be able to sit for hours, folding hand after hand if necessary, until you finally get the one hand you can make some money from.
You also need to have the discipline to move back down a level if you find that your money is dwindling. Many of the greatest high stakes players have lost everything at least once, and have had to start from scratch again. If you do find your bankroll depleted, step back down a level and grind your way back up again, just like you did originally.
A Desire to Keep Improving
Finally, the best high stakes poker players have a constant desire to continue improving. You'll often see someone like Daniel Negreanu trying different things and learning how to master different poker variations, and you should be doing exactly the same. If you just allow yourself to stagnate, you'll find that poker can become boring, and once you lose your love for the game, you're going to have a hard time playing.
You'll also find that the poker world, especially the online world, is constantly evolving. New types of games, innovative rules and new ways of playing pop up all the time, and you need to be on top of them as soon as possible. By being one of the first on board, you won't find yourself struggling to keep up later down the line. So, when you see something new at PokerStars or Full Tilt, don't scoff at it, but instead embrace it! You'll be able to find new innovations in poker by looking at the latest poker news regularly.
Is There a Difference Between Online and Live High Stakes Poker?
Yes, there are some differences between playing high stakes poker online and playing it live. The biggest is the fact that online poker relies much more on mathematics and considered play, while live play has a more human element to it.
Essentially, if you're going to play online, you're not going to see who you're up against. This can make it exceptionally hard to get a read. The solution? Play the percentages. Spend time learning what you should be doing with each hand, how implied odds work, and resisting the temptation to bluff, aside from when the numbers tell you it's worth it.
Live poker, however, is seen as a more skilled art by many. This is because it relies more on psychology and the ability to read others. The result? It's possible to be a little more adventurous with your bets, throwing in occasional bluffs against players you have identified as being more susceptible to them.
Another major difference is that live poker is much slower than online poker. Those who prefer a slower, more considered approach to the game will prefer playing live, while those looking for a faster way to play should play online. High stakes online players will also often multi-table, which is a whole different skill that needs to be learned.
Some Top High Stakes Poker Players
If you've watched poker on TV or followed high stakes poker news, you'll have heard of many top players. Below, you can find out about five of the biggest high stakes players around…
Daniel Negreanu
If you look at high stakes poker results, Daniel Negreanu is very often near the top of the rankings. The Canadian is perhaps the most popular player on the circuit, plus he can often be seen appearing on a televised poker cash game. He is a player regularly found at the Big Game in Bobby's Room. He made the first ever bet on the famous TV show High Stakes Poker.
Doyle Brunson
Doyle Brunson is a huge name in the world of poker, known for taking part in some of the biggest cash games around. Every scholar of poker should read his book Super/System, which is regarded as one of the greatest poker books ever written. He's another player known to have often played in the Big Game.
Antonio Esfandiari
Antonio Esfandiari is perhaps best known for winning the first Big One for One Drop tournament. He is a high stakes player who is more famous for tournament play. He has also played high stakes cash games too though, and appeared on every series of High Stakes Poker, the program that has recently been acquired by Poker Central.
Phil Ivey
Phil Ivey is, along with Daniel Negreanu, the most famous poker player in the world. He once played heads up poker against Texan billionaire Andy Beale, with stakes of $50,000/$100,000. He made over $16 million from this game, which lasted three days. He has also won millions playing high stakes cash games online.
Viktor Blom
Viktor Blom is better known by some as "Isildur1", the name he uses when playing online. His rise in poker was meteoric, appearing from nowhere in 2009 and almost immediately crushing the high stakes games at Full Tilt Poker. He shows the importance of resilience, as he then lost everything, before building up his bankroll again and becoming a regular on the high stakes poker scene.
Where Can High Stakes Poker Be Played?
There aren't that many high stakes poker players out there, so it can sometimes be tough finding a game. To give you the best chance possible of finding opponents, you should play at sites with the largest concentration of players. These are PokerStars and Full Tilt.
PokerStars
If you play at PokerStars, you'll find a lively community of poker players at every level, from micro-stakes players, through to those willing to lay thousands on a single hand. High stakes players will find plenty of games offered, plus many of the poker world's most famous names are often found playing in PokerStars' cash games.
Full Tilt
Many might be concerned about playing at Full Tilt due to the scandal many years ago, but it is now under different ownership and is a poker site that can be trusted. Like PokerStars, you'll find many big names playing their trade at Full Tilt, according to HighStakesDB, including Gus Hansen and Tom Dwan, two players who are often found at the top of high stakes poker results.
Popular Posts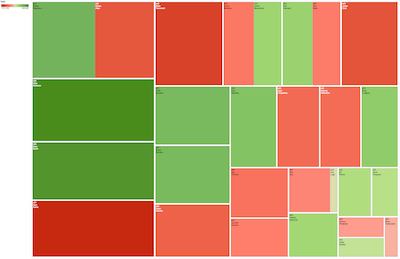 Vizualise all the hands of the popular TV show High Stakes Poker. Visualize statistics like total tally, Vpip, PFR as well as the number of hands, per season and for all the seasons from your favorite poker players. more...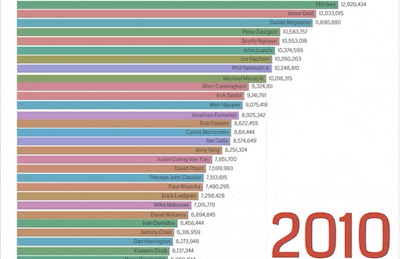 Watch the top 100 of every year of each Money List since 1971 from The Hendon Mob and stacked them year after year to put them in a bar chart race. See some of the greatest rises and falls in poker history! more...

Read our blog