For many, poker tournaments are the best way to test their skill. Just one mistake can lead to elimination, while one great play can put a player to the top of a leaderboard. Of all the places to play in poker tournaments, perhaps the most iconic is Las Vegas, the gambling capital of the world and the home of many world-famous casinos.

Las Vegas poker tournaments come in a range of shapes and sizes, from tiny tournaments in little known casinos, through to weekly poker tournaments with big buy-ins at venues like Caesar's Palace and the Venetian. We're going to give you the full lowdown on poker tournaments in Vegas on this page, so keep on reading if you're planning to hit the poker tables of the city any time soon!
Best Las Vegas Casinos for Poker Tournaments in 2021
As you already know, Las Vegas has loads of glitzy casinos along the Strip, with many more found away from the center of Vegas' gambling hotspot. You'll find daily tournaments running in Las Vegas, but which resort should you choose to play in? Below, we've outlined five of the top places to play tournaments, however if you'd like to see a complete poker tournament schedule for Las Vegas, we'd recommend heading to PokerAtlas , the comprehensive poker source for tournaments in the city.
Aria Resort and Casino
The Aria holds regular no limit hold'em tournaments, and you should expect to pay around $140 if you want a seat at a table, although weekend tournaments cost considerably more. Expect to find around 70 poker players entering the event – a figure that makes the tournaments at the Aria some of the most popular in the city.
South Point Hotel, Casino and Spa
While not one of the best-known casinos, the South Point Casino offers a great selection of tournaments, with buy-ins ranging from just $60 through to $125. The $60 tournaments are great for those without huge bank balances, plus with an average turnout of around 35 players, they give you a decent chance of finishing near the top of the leaderboard.
Caesar's Palace Las Vegas Hotel & Casino
You'll find that Caesar's Palace hosts nightly poker tournaments, as well as tournaments starting earlier in the day. There are three main tournament types: the $2k guaranteed tournament is $150 to enter, while the $1.5k guaranteed tournament costs $125. The most affordable is the $1k guaranteed, which is $100 to enter. Expect around 60 players in each tournament.
The Orleans Hotel & Casino
The Orleans is another casino that holds poker tournaments that are affordable to most players. They have a regular super stack no limit hold'em tournament, which is $100 to enter, and this takes place twice a day. The evening version of the tournament has a $10k guaranteed prize pool, while there's a $5k guaranteed prize pool offered in the morning tournament.
The Venetian Resort Las Vegas
If it's big money tournaments you're after, the place to go is the Venetian , which offers regular tournaments costing $600 to enter, as well as regular $300 and $400 tournaments as well. As with many other casinos, you'll also find special events being held at the Venetian, including DeepStack Extravaganza, held every December to January.
Tips for Poker Tournament Players in Las Vegas
If you're planning on playing in one of the Las Vegas upcoming tournaments, you need to turn up ready. While there will be plenty of fish in the tournament, you'll also find that they attract some of the better players as well. This means that the average player can find themselves running deep, but needs a little bit extra to go all the way and win the top prize.
Unfortunately, the only way to gain the skills needed to play tournaments is by practicing playing live – there's no way to watch poker videos on YouTube to find out everything you need to know. So, start slowly and play the tournaments with low buy-ins, before then progressing to higher stakes live action games when you feel comfortable.
There really is a huge amount you need to know before you can consider yourself an accomplished tournament player, but we've got five tips below to start you off…
Defend Your Big Blind
Firstly, you should defend your big blind a lot when playing in tournaments. This is something that makes mathematical sense, as the big blind nearly always has great pot odds , meaning that staying in the hand is more than worth it. If you've got less experience you might not feel comfortable defending with every hand, but as you get more confident, your range will increase.
Of course, you will need to read the game before deciding whether to defend your big blind, as there are occasions when mucking your hand is better. Perhaps the best example of this is multi-way pots, where weak hands often have very little chance of winning. So, be a little picker when there's more than one opponent in the pot.
Know the Game
It might sound like an obvious thing to say, but when you play live, you really need to know the game. If you're online, you can take advantage of all kinds of tools, from tools showing past poker player results through to a poker odds calculator. You won't have anything to help you when you're playing live however, which is why you really need to know how to play.
There are a couple of facets of your game that are important. The first is that you should understand the math, and you can do this by reading about the game and playing online – something you can do cheaply if you take advantage of the many bonus offers around. The second, however, is that you need to be able to read other players, and this only comes with live tournament practice.
Understand How to Play Heads Up
One aspect of tournament play that many people neglect is learning how to play heads up poker . If you want to win tournaments though, it's vital that your heads up play is strong. After all, the difference between coming first and second can be worth hundreds, or even thousands, of dollars.
It's tough to practice playing heads up live, so you'll have to make do with playing online. Luckily, you'll find that the biggest online poker sites have regular heads up tournaments, which will at least give you the chance to get comfortable playing in this format. To find the best places to play, check out the many online poker reviews found on the internet.
Play More Aggressively as the Tournament Progresses
Successful tournament players will tell you that you absolutely must modify the way you play throughout a tournament. It's generally the case that the further through the tournament you progress, the more aggressively you should play.
At the beginning of a tournament, blinds are small and there's no need to go over-the-top to win them, however this situation is very different at the end of a tournament. Also, if you play tight at the beginning of a tournament, you'll gain a reputation with the other players, allowing you to get away with more nearer the end of a tournament.
Steal the Blinds Often
Finally, many top tournament players will tell you that you've got to steal the blinds when possible. One way to do this while also keeping the risk down is to open small and often. Placing a raise that's just larger than the pot means that the steal only needs to work less than 50% of the time in order to break even, so it's often worth trying.
However, you do need to be careful, and understanding when to attempt to steal the blinds is something that will come with experience. Weaker opponents will often be beaten by opening small, however the tactic is a common one, therefore more experienced players might be able to see right through it.
Popular Posts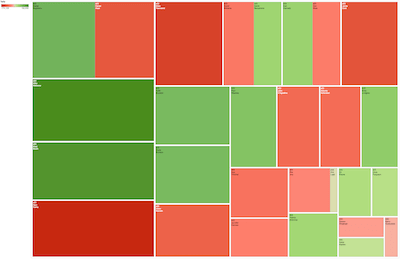 Vizualise all the hands of the popular TV show High Stakes Poker. Visualize statistics like total tally, Vpip, PFR as well as the number of hands, per season and for all the seasons from your favorite poker players. more...
Watch the top 100 of every year of each Money List since 1971 from The Hendon Mob and stacked them year after year to put them in a bar chart race. See some of the greatest rises and falls in poker history! more...