Dear Mr Online Poker Manager,
This is not an easy letter for me to write. I have been a customer of yours for over 10 years. You were here when I had nothing to do, when I was bored, when I felt like gambling even when I was at work. You brought me money, adrenaline, sleepless hours, anger, joy and hope. You made me feel invincible and you made me feel like shit. I even got into a major live tournament thanks to you.
We have been through so much together.
I'll let you into a little secret.
You were my first! Don't worry, I know I wasn't yours.
You may have noticed that I emptied my account and transferred all my winnings back to my bank account recently. It was not an easy thing to do. Maybe you didn't even notice? The problem is these days, this money was just sitting here and I needed it for my new friend.
You see, 6 months ago I met this new friend called Crypto-Poker. She is new and exciting, and I needed all the money you were keeping in my account for her.
I know I am not a macro-economist and you might have all these arguments for why Crypto is a scam but I'm someone who is playing Crypto-Poker and I know that this is going to be an ever-increasing need for me.
I can imagine you are angry, or maybe you just don't understand. Maybe you think Crypto is a Ponzi scheme and everyone buying it is only doing so to make a quick buck. Sure, some of us are, like some of us had their account full on your servers on Black Friday, and lost money.
Crypto-Poker can do amazing things you cannot do. At his heart, Crypto removes the need for a central 3rd-party.
That's you.
Crypto-Poker uses complicated existing technologies (peer-to-peer technologies, a distributed database and a proof of consensus) to allow irrefutable and immutable transactions to happen online. Like a poker hand for example.
With Crypto-Poker, I don't need to put money on your account. I don't need my bank to authorise a transaction with a gambling service. I don't need you to be able to see all the cards. I don't need to wait to take my money out.
You think I'm ridiculous, don't you. You think there are no reasons why I shouldn't trust you.
You probably decided to accept Crypto as a payment option.
The problem you see is not about paying into your account with my Bitcoins. The problem is that I had no other options than you until now if I wanted to play online. I had to trust you even if I didn't want to. Some people say you are rigged and it is true that you are at the mercy of a rogue software programmer.
So if I don't need to use you and be at risk of you blocking my account, why should I continue? Isn't it more cool for me to instantly transfer a token and start playing with whoever I want without having to trust them nor asking permission to anybody?
You get the picture, right?
I know you are scared. I know you think you will lose your job eventually but maybe you could adapt? Maybe you could reinvent yourself? You are an innovator, aren't you? You already know deep in you that this is the future of poker just like you were the future of poker when the internet came along.
With love.
/PokerStack
PS: If you want to try it out for yourself, you know, out of curiosity, you can have a look at Virtue Poker or CoinPoker for example.
---
>> Read the original "An Open Letter to Banks about Bitcoin and Cryptocurrencies" by Peter McCormack <<
Popular Posts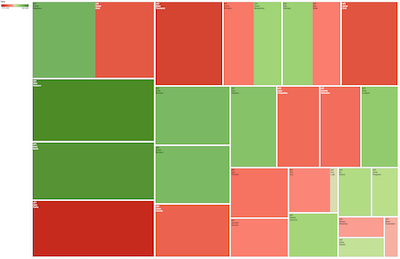 Vizualise all the hands of the popular TV show High Stakes Poker. Visualize statistics like total tally, Vpip, PFR as well as the number of hands, per season and for all the seasons from your favorite poker players. more...
Watch the top 100 of every year of each Money List since 1971 from The Hendon Mob and stacked them year after year to put them in a bar chart race. See some of the greatest rises and falls in poker history! more...